Paper Plates by Heather Savard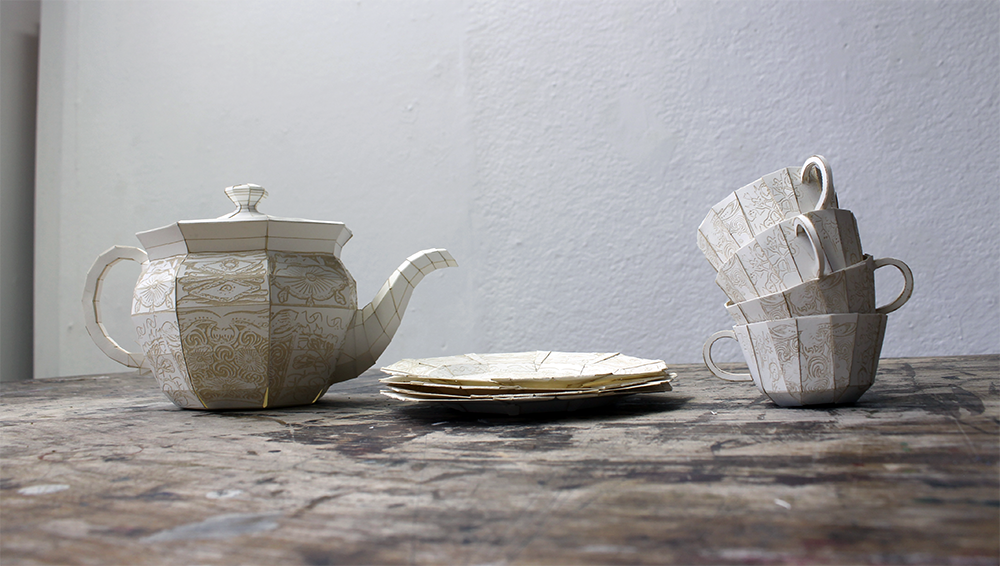 A teapot, 4 cups and 4 plates were digitally constructed through 3D modelling software, and unfolded into a flat plane, resulting in a series of polygons that could be folded back into a paper tea set. A pattern from the original tea set was digitally scanned and translated into a black and white image that was then transposed onto the polygons.
It would have been impossible to cut out and form the structures without using the laser cutter. They required very precise cuts and scores that would have not been able to be replicated by hand. As well as the surface decoration being engraved in the material could not have been achieved otherwise. It was an intrinsic aspect to the work, that the polygons were crafted accurately through a digital process that could be replicated in a similar manner porcelain that is made in a industrial factory setting.
MATERIAL: Paper – Coventry Rag
FILE PREPARATION: Polygons were made from unfolded 3D structures created on rhino and exported to Illustrator. In Illustrator 2 layers were created, red, and blue. RGB red for the cut lines and RBG blue for the engraving/score lines.  
SETTINGS USED:
Trotec software settings Photo-Optimized, 500 DPI, Stucki
Material Template settings Engraving: P:80 v:80, PPI: 500 Cutting: P:80, v:5, Hz: 1000
TROUBLE SHOOTING:
The pattern was too faint at first and setting had to be adjusted.
There was some difficulty distinguishing the fold lines between the patterns, settings were adjusted to create a deeper score line.