Hogarth Crip Quilt by Chelsey Campbell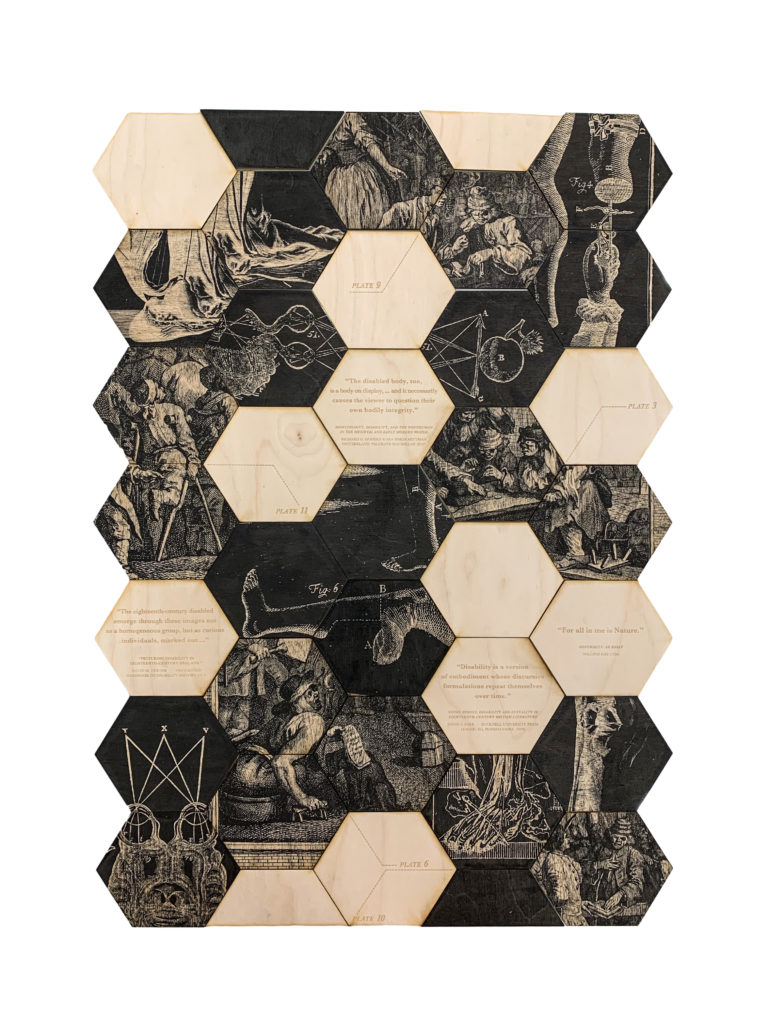 Developed for a research presentation in HADVC 503, Hogarth Crip Quilt explores the early modern construction of the disabled body through historical sources. Replicating the familiar form of a convalescence quilt, each tile explores the visual and textual accounts of disabled embodiment in 18th century England. The images are often fragmented, small snippets of information that reference crip bodies' existence in the margins of historical accounts. Together the tiles illustrate disabled embodiment in the early modern era as complex, mutable, and whole. Hogarth's etching are known for their expressive line-work and cross-hatching, Chelsey wanted to use the laser-cutter to provide a similar experience to viewing the original etchings — the depth of the lines provide a depth and liveliness to the etchings.
MATERIAL: ⅛" baltic birch plywood sheet stained with sumi ink
CUT/ENGRAVED: Engraved and cut
CUTTING/ENGRAVING TIME: ~2 hours
FILE PREPARATION: crip quilt was generated with early modern anatomical etchings from the Wellcome Collection and Hogarth's Industry and Idleness series, as well as text extracted from multiple historical sources. The image files were created in Photoshop and cut lines were added in Illustrator.
SETTINGS USED: Trotec software settings Standard, Inverted image, Black and White, 333 dpi
Material Template settings Wood (Pine) Engraving P:100 | V:80 | W: 500 Cut (2 passes) P:100 | V:1.98 | W: 2000
NOTES: No issues with engraving, slight smokey off-gassing during cutting of the material
TROUBLE SHOOTING: I tried multiple settings for wood engraving, I found that the increased power with a decreased velocity gave me the most detailed outcome.