The Pines by Chelsey Campbell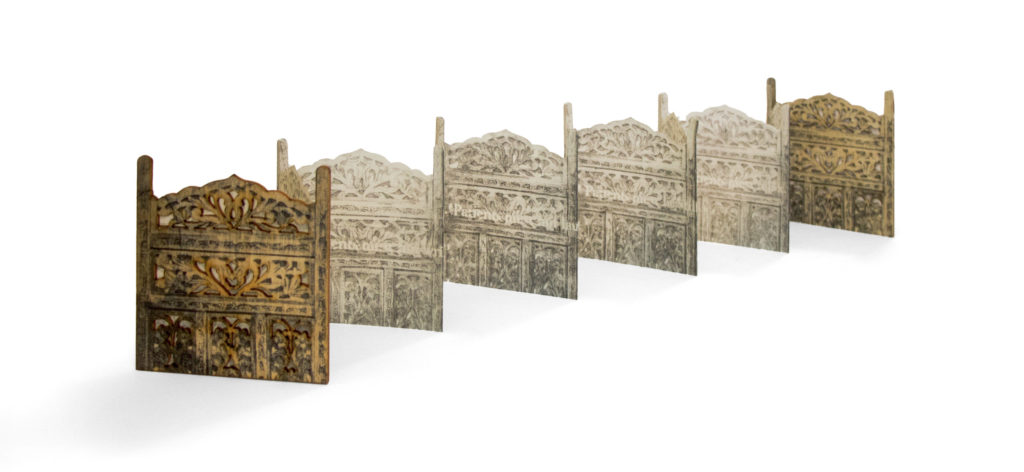 The Pines is an artist book exploring the labour and trauma of recovery from surgical intervention. Designed to fit in the viewer's hand, this project constructs an intimate relationship through its delicate materiality. The waxed pages stretched and folded between two laser-etched wood panels promise to spill out if not carefully embraced, held close by the audience. The soft, luminous nature of the text tracing along the edge of the ornate headboard is in stark contrast to the abrasive, and often abusive, rules it spells out. Excerpting text from Lisa Diedrich's Treatments: language, politics, and the culture of illness, this artist book challenges and confronts the expectations of illness, recovery, and patienthood. Chelsey used laser cutting as Chelsey wanted the covers of the book to replicate the surface and materiality of the carved wood headboard photographed in the book. The wood also provided a better surface to stand up the book for display and the laser cutter provided a perfect cut to support this concept.
MATERIAL: ⅛" baltic birch plywood sheet stained with sumi ink
CUT/ENGRAVED: Engraved and cut
CUTTING/ENGRAVING TIME: ~20 minutes
FILE PREPARATION: The image was a black and white photograph, contrast was enhanced through photoshop to improve engraving results. Cut lines were added through illustrator.

SETTINGS USED:
Trotec software settings Photo optimized, Inverted image, Ordered Dither, 333 dpi
Material Template settings Wood (Pine) Engraving P:100 |  V:80  |  W: 500 Cut (2 passes) P:100 |  V:1.98  |  W: 2000
NOTES: No issues with engraving, slight smokey off-gassing during cutting of the material 
TROUBLE SHOOTING: I tried multiple settings for wood engraving, I found that the increased power with a decreased velocity gave me the most detailed outcome.